Home » iPhone
[Review] Nokia BH112 Bluetooth Headset
Article by Daz on Friday, 6 January 2012
I have always had a fondness for bluetooth headsets don't ask me why and when MobileFun said that I could review the Nokia BH112 then I thought why not.
The headset is a mono headset so you want be listening to your favourite tunes or podcasts on it, but then again what is the but of doing that on a single eared device.
The BH112 is a small headset weighing in at only 8.1g. The device comes with 3 earbuds so you can get a good fit in your ear and 2 over the ear hooks. Now I did find that I needed to use the over ear hooks so that the device stayed in place and the saving grace to this is that the hooks are see through.
The BH-112 has only 2 buttons, one on the underside to turn the unit on/off and one to answer, end, last number redial and use voice dialling.
Turning on the BH-112 for the first time puts the device straight into pairing mode, which is a great feature in my opinion. There is no passcode to enter on the iPhone 4S as the device works on Bluetooth 2.1 with EDR. Turning the device of and on again sees the BH-112 pair almost instantly which is another super feature.
The Nokia BH-112 Bluetooth headset also features a voice prompts that tell you when the battery is low, or when the device has been connected or is in pairing mode.
The top surface of the BH-112 is rubberised giving it a good feel and allowing you to make sure that you get a good press in the multifunction button.
Talktime on this little device that measures just 40 mm x 20 mm x 25 mm is 5 hours with 250 hours of standby time and only taking 2 hours to charge.This little bluetooth headset has more tricks up it sleeve by allowing you to connect it to 2 devices at the same time.
Audio quality can not be moaned at with this little headset, with people both being able to hear me well and me hearing them well also, even when using it in windy environments.
The 2 best things about the Nokia BH-112 Bluetooth headset is firstly the colours it comes in: White, Black, Green Blue and Pink and secondly it costing only £22.95.
Check out the video review below for more details…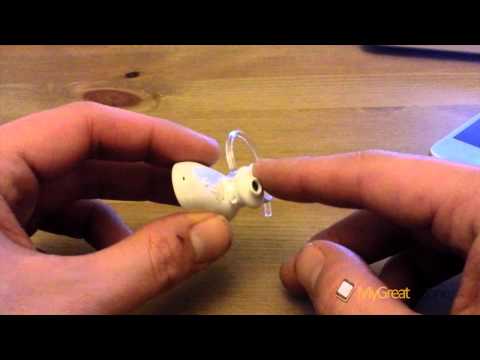 A big thanks for MobileFun.co.uk for send the unit out for review, they do some excellent mobile accessories with excellent prices whether it be iPad accessories or something to protect your iPhone they will have it.